A Brief History of Holistic.com
The story of Holistic.com begins with me being introduced to Dr. Rudolph Ballentine in 1994 while I am studying for my M.B.A. Rudy is a pioneer in holistic medicine and integrating the world's great traditions of healing and healthy living. Explore more about Rudy and his groundbreaking book Radical Healing. For me, the introduction to holistic living and thinking is a homecoming.
The building of Holistic.com has its fits and starts from 1995 through 2005. In 2005 I set aside my work on Holistic.com to care for a friend, Carl, diagnosed with Alzheimer's Disease.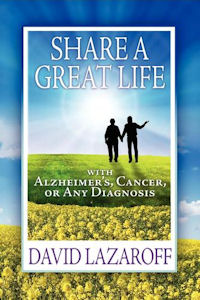 As I work with Carl over the next seven years, I am immersed in a holistic approach to life where disease becomes another context for pursuing a great life. In the context of a holistic approach, Carl grows from depression to laughing every day until the completion of his life in 2011. The lessons I learn in this period apply to everyone who wants a life of joy and fulfillment. I write about these lessons in my book, Share A Great Life with Alzheimer's, Cancer, or Any Diagnosis.
PRICE: $13.46
Add Book to Cart
Now that I am complete with my journey with Carl, I am returning to my passion for sharing the the journey of holistic living through Holistic.com. I look forward to our journey together. I want you and those you share life with to experience life as great, joyful, and fulfilling. So, please let me know what you want to see more of at Holistic.com!
– David Lazaroff
Founder, Holistic.com