Pam LeBlanc writes on Austin360.com: Exercise helps patients cope with Alzheimer's Disease.  Pam gives the example of John Duncan, a man with Alzheimer's who enjoys life more with regular personal training than he did before personal training.  The personal training experience gives him better strength, balance, mobility, and cognitive function.  Thank you, Pam for a well written article.
To add to Pam's article, I want to point out the depth of the impact that the personal training experience has on persons with Alzheimer's such as John Duncan.  The impact goes far beyond "coping".  When a person with Alzheimer's is having a good time exercising, listening to music, making love, or simply holding hands, they are having a joyful life.
The word "coping" implies a contextual background of struggle, loss, or unfortunate circumstances.  Seeing a "background", for the context of an activity or how an activity occurs for a participant, is a higher cognitive function.  Being aware of a context or background requires holding the past and future in mind at the same time with the present focus of attention.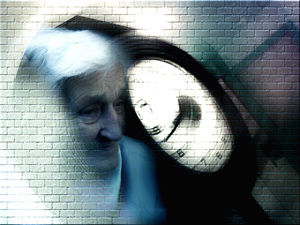 As Alzheimer's progresses, background and context disappear as the mind only holds the present experience.  Even if it is a memory that is the focus of the moment, the particular memory is experienced in the present without an additional context.
For John Duncan, training is its own enjoyable experience.  During the workout, he is only present to his participation and is not concerned with whether or not he has Alzheimer's, what he will do tomorrow, or what he used to have for a profession.
His experience is not one of coping, but one of enjoyment of movement, fitness, nature, and the companionship of his personal trainer.  He is free of worry and engaging in a workout in a way that is worthy of the aspirations of the most cognitively sound persons.  John is well cared for.  While enjoying his workout, John is having a great life!
Yes, exercise can improve the functions of the body, including the brain.  But, the real lesson here is that the goal of therapies and interventions deserves to go beyond coping, relieving symptoms, and restoring function. Sometimes restoration is something that will not happen.  The true goal is to have a great life, enjoying all that life offers that is available for the person to enjoy.
— David
David Lazaroff is author of Live It Up! 10 Ways to Share Joy When Your Friend Has Alzheimer's.  David coaches family and friends of people with Alzheimer's Disease in creating a fun and joyful life.  Contact david@holistic.com
David is the founder of Holistic Community Living, a Colorado nonprofit founded to operate and teach others to operate neighborhood-based assisted living homes where people can complete their lives with those they love.