Do you notice that when you are full with joy, there is no room for sadness or suffering? I learned this from my grandmother as she progressed through colon cancer and chose to decline morphine for the pain saying, "I want my mind clear, I want to see my grandchildren." When she was with her family, regardless of the pain, grandma was not suffering, she was enjoying life.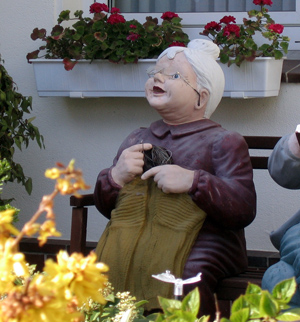 More than thirty five years later, I am still appreciating the depths of lessons from grandma.  I recognize the same lessons coming from others.  Carl continues to teach me since 2004 when he was diagnosed with Alzheimer's Disease and I began helping him.  As dementia progresses, frustration swells from time to time.  These are moments of suffering, like a dream of running for your life, but not getting anywhere, except it is real.
Suffering is the experience of our attention lingering on a subject in the state of despair.  A frightening or frustrating experience is not suffering.  A painful experience is not suffering.  Keeping our attention in a state of despair on a frightening, frustrating, or painful experience is suffering.  Suffering is when we cling to distress.
Grandma taught me how to cure Carl's suffering.  I hold his hand and look into his eyes.  I smile and let him know he is loved and valued for the love he gives as he squeezes my hand.  I play guitar and sing to him.  I walk with him in the park.  He still has memory loss, and dementia, but he is joyful and his suffering is cured.  When a new suffering arises, Carl's caregivers know how to cure that one too.
Compassionate companionship displaces suffering. Take the time to hold hands, look into eyes, and enter the world of another.  You can displace suffering with love and a sense of ease, regardless of the physical circumstances.  Engaged loving care is the cure for suffering. Try adding it on top of your current medical plan! No prescription necessary.  No negative side-effects.  Apply liberally, as needed. Unlimited refills.
–David
David Lazaroff is author of Live It Up! 10 Ways to Share Joy When Your Friend Has Alzheimer's.  David coaches family and friends of people with Alzheimer's Disease in creating a fun and joyful life.  Contact david@holistic.com
David is the founder of Holistic Community Living, a Colorado nonprofit founded to operate and teach others to operate neighborhood-based assisted living homes where people can complete their lives with those they love.