If you like something and would like to have it in your life, then look for it.  We find what we are looking for.
If you want to win a game, then play that game.  We win games that we play.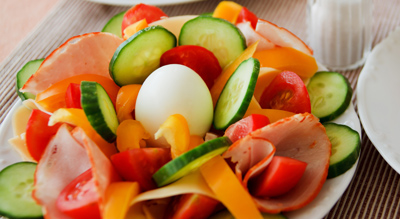 If you want to eat healthy foods, then buy healthy foods and fill your refrigerator with them.  Eat your fill of healthy foods so there is no room for anything else.
If you are interested in cultivating happiness in your life, then think about the things that bring you happiness and act on them.  When we put all our time on creating happiness, there is not room to linger on other things.
When you make your life about what you like that is possible, accessible, and available, then you are actively receiving what life is offering.  When our mind strays from this, then our attention is nurturing something we do not like.
Look at the example of health.  If you have a pulse, you have some degree of health.  If you would like more health, focus on the areas of your life, your mind, and your body where you would enjoy more health.  Explore more ways to increase your vibrancy and resiliency.  Get help from experts who specialize in nourishing your organs that would benefit from  nourishment and calming the organs that are more active than is beneficial.  Good health is the result of nourishment and balance.  A state of vibrant health is found in a pursuit of balance, not a battle for domination.
Mind your language and your thoughts.  Preview your thoughts before you give them the power of your speech.  Select the words that carry you to where you like to be.  Do all your words support you in keeping focus on your goal?  Keep the words that are useful and carry you forward.  Release all others before you speak them.
I learn this from Carl.  As Alzheimer's progresses, the abilities one often takes for granted recede and wane.  When the abilities to read the newspaper or count money dissipate, it is time to look at what life is still offering and take it in so fully that the abilities of the past are left complete.  Life is always offering joy, happiness, love, and fulfillment.  If we are not experiencing those things, then we are not looking for them.
–David
David Lazaroff is author of Live It Up! 10 Ways to Share Joy When Your Friend Has Alzheimer's.  David coaches family and friends of people with Alzheimer's Disease in creating a fun and joyful life.  Contact david@holistic.com
David is the founder of Holistic Community Living, a Colorado nonprofit founded to operate and teach others to operate neighborhood-based assisted living homes where people can complete their lives with those they love.