I accelerate onto I-25 for my 20 minute commute to work.  I'm in the sun and there are dark skies to the West.  WOW!  A double rainbow like none I've ever seen before!  The morning sun illumination of the coming storm; the ends of the main arch radiate disproportionately.
A rainbow is the perception of the colorful refraction of light off of water in the air. A rainbow is seen from a distance.  You can never touch a rainbow.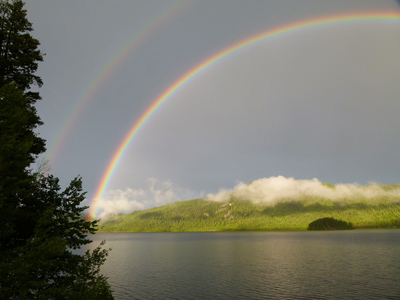 Rainbows have such meaning in various cultures.  The Irish legends of gold at the end of a rainbow are testaments to the gullibility of people who would chase after something that can only be perceived at a distance.  I reflect on my own dreams that I chase in life and wonder if I am just chasing for that pot of gold at the end of a rainbow.
Then there is the biblical story of Noah and his ark. As the great flood finally recedes, the ark comes upon dry ground.  God makes his covenant that such a flood will never destroy all creatures again.  The bow in the clouds is forever to be the sign of the covenant.  I am warmed by this story given to me as my heritage.  I am heartened that the Divine is present in my life and visible on this morning.
Of course I can make anything or nothing of my visit with this rainbow.  The center of the arch is directly ahead of me, between me and the Rocky Mountains.  I feel like I am heading into a portal that leads me directly to a heavenly realm.
Enough of the other-worldliness.  I remember that I can make today a heavenly experience of joy, peace, and love.  Yes, the center of that rainbow may very well be my office at the Denver Federal Center in Lakewood.  What will I make of today?  It is off to a good start, and I have my guitar in the back of my car for a visit with Carl this evening.
Accepting the rainbow as a sign of God's love, I experience beauty in the world and a connection with others.  I appreciate the love in others.  I feel stronger, braver, and at peace.  Life really is what we make of it.  I choose this life and this experience.
What do you choose today?
Love,
David
David Lazaroff is author of Live It Up! 10 Ways to Share Joy When Your Friend Has Alzheimer's.  David coaches family and friends of people with Alzheimer's Disease in creating a fun and joyful life.  Contact david@holistic.com
David is the founder of Holistic Community Living, a Colorado nonprofit founded to operate and teach others to operate neighborhood-based assisted living homes where people can complete their lives with those they love.