Oooooo… I have chills just thinking about it:  The life I love.  Where is it?  Oh, it's HERE!
Everything I enjoy is at hand.  My guitar, a good paying job, my wife, my sisters and parents are just a phone call away, friends I love, health, exercise, yoga, meditation, sunny days, nature, inner peace.  Yet, sometimes I forget.
Forgetfulness:  a trick of the mind; the mind astray.  The moments I stop seeing the things I love that are all around me are the moments I feel disconnected and lonely.  Then I am distracted….  I'm off to my "bad habits" and a few hours of wasted time that my intellect and self-image can't quite get a grip around, that leaves me with a feeling of guilt and disconnectedness.  Or it can last days, weeks, or months.  Yes, disconnected amidst all the things I can identify as important, vital, and fulfilling to me.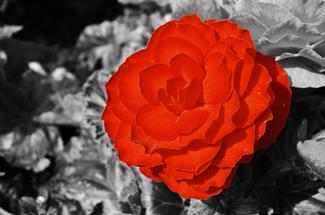 There's a hole in my life and I can hear the echo of it's depths, but I can't see it.  It's in a blind spot.  Hey!, those distractions are telling me something.  Those wandering thoughts are clues.  There's something missing, the presence of which would make a difference….  Passion in my personal relationships.  Freely expressing my care and joy for the company of others… my joy for you.
I love you.  Yes, you.  Now that I can say it, now that I can see it, now that I can feel it freely and simply, my life is a more joyful experience.  I'm connected, again.  I can focus on my guitar practice, composing, relationships, job, exercise, yoga, meditation, sunny days, health, nature, and be present to the inner peace that is always present, waiting for my attention.
What's your distraction?  What is it telling you?  What's missing in your way of being, the presence of which would make a difference?  The world has everything we love and all the ingredients to the life we want to live are available.  Can you hear the clues that will reveal the blind spots?
Much Love,
–David
David Lazaroff is author of Live It Up! 10 Ways to Share Joy When Your Friend Has Alzheimer's.  David coaches family and friends of people with Alzheimer's Disease in creating a fun and joyful life.  Contact david@holistic.com
David is the founder of Holistic Community Living, a Colorado nonprofit founded to operate and teach others to operate neighborhood-based assisted living homes where people can complete their lives with those they love.